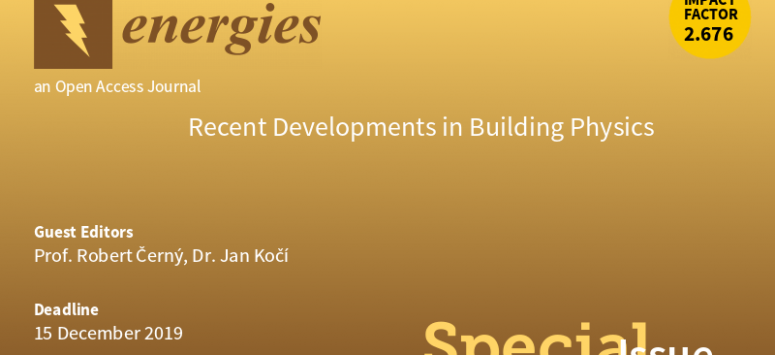 Contribute to the Special Issue in Energies!
Robert Černý and Jan Kočí invite the authors to submit their research in the special issue titled "Recent Developments in Building Physics" (IF 2.676). The deadline for submission is December 15, 2019.
This special issue was established to follow the successful CESBP 2019 meeting in order to face the growing challenges arising from demands in the field of building physics with the goal of enhancing the knowledge base and stimulating an innovative culture in the building sector. Therefore, the Special Issue aims at providing recent developments in any field of building physics, covering a wide range of scientific topics that include but are not limited to the following:
Building materials and components;
Building envelope systems;
Indoor climate and human comfort;
Energy performance;
Environmental impact and damage assessment;
Life-cycle assessment;
Retrofit and conservation of buildings.
The special issue is now open for submission for everyone, i.e. also for authors who did not participate in the CESBP 2019. Manuscripts should be submitted online at www.mdpi.com by registering and logging in to this website. Once you are registered, click here to go to the submission form. For more info please visit the website of the special issue.